The Challenge of Chafing
Do you deal with chafing? Here's how to treat it and prevent it.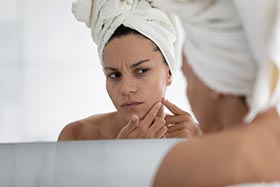 You'd love it if your thighs didn't rub together. It makes you feel self-conscious. Add in chafing and you've got an even bigger problem. In fact, the chafing may be what's motivating you to lose that extra weight.
Chafing is a common problem that is typically associated with people who are overweight. However, this problem isn't confined to those who need to lose a few pounds. It can also be problematic for people who exercise a lot.
While typically occurring between the thighs as they rub together, chafing can happen on other body parts, including the groin, underarms, feet, and nipples. Chafing can lead to stinging and burning sensations, blisters, raw skin, or mild rash. To prevent complications, it is best to stop the chafing as soon as it starts. If left untreated, the problem can worsen and the area can become infected, scab over, and leave scars.
What causes chafing, how can you keep it from happening, and how can you treat it when it does?
Chafing Causes
Chafing is caused by the friction of skin rubbing against skin or skin rubbing against rough fabric. The annoying problem is more likely to occur when there's moisture, pressure, hot temperatures, humid weather, cold temperatures, or dry weather.
You're also more likely to deal with chafing if you do the following:
• wear clothes that are too tight or too loose
• run or cycle for long distances
• have sensitive skin
• sweat a lot
• frequently expose your skin to water
• wear clothing that holds in moisture
• wear shoes that are too tight
• exercise with salty residue left on your skin from sea water
• exercise with sand in your clothes or shoes
No matter what causes your chafing, the end result is the same: pain and frustration. But no matter what shape you're in, you don't have to accept chafing as an unavoidable fact of life.
Preventing the Chafe
Since chafing happens when your skin rubs against skin or against rough fabric, it can be prevented. You've just got to take the right steps. Find ways to decrease the amount of friction, avoid excessive moisture, and keep your skin cool. Use an anti-perspirant deodorant under your arms or between your thighs to keep your skin dry. Apply talcum or alum powders to areas that get sweaty.
When your clothes get wet or sweaty, change out of them as soon as possible.
Before you get moving, you can help prevent chafing by dressing appropriately. When exercising, wear clothes that are designed to wick moisture away from your skin. Avoid wearing cotton, which doesn't dry quickly. If your thighs are a trouble spot, wear compression shorts or running tights. Make sure all your clothes and your shoes fit properly.
Since friction is a major cause of chafing, lubrication can help prevent it. Frequently reapply a little petroleum jelly, cream, lotion, or oil on skin prone to chafing.
Treatment That Soothes
If left untreated, chafing can worsen, become painful, and develop infection. See your doctor if there is swelling, discoloration, crusting, or bleeding.
As soon as chafing occurs, take steps to keep the area clean and dry. Use gentle soap to clean the skin, avoid bathing in hot water, and pat dry.
Expose the skin to air whenever possible or at least while you sleep. Keep petroleum jelly on the chafed area during the day and avoid additional friction until the rash heals. Severe or infected chafing may require an antibiotic ointment or topical steroid medication to heal.
After the friction has stopped, chafing should heal in a few days.